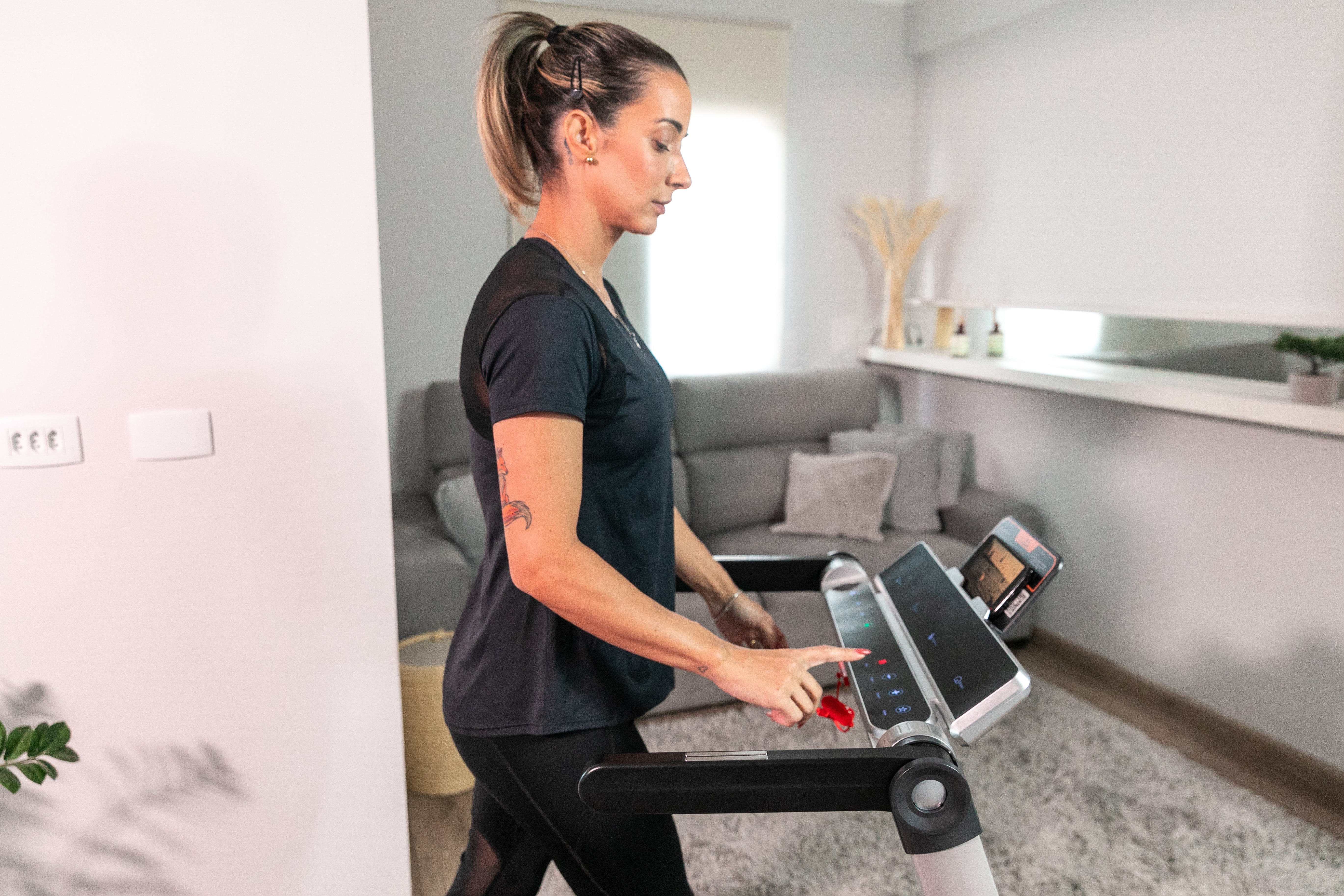 February 11, 2022
0 comments
When buying a electric treadmill to have at home is to consider a few points, in order to ensure that you choose the product that best suits your needs. needs.
First, it is important to think about comfort e financial security to ensure that your training have good results. Furthermore, it is also important to know the technical aspects since they are the ones who will define the type of performance of the equipment.
We know that price is always relevant in a purchase decision, but in this article we want to draw attention to other elements and features to consider at the time of purchase.
Discover our 5 tips for choosing the best electric treadmill to train at home ensuring comfort and safety in your workouts!
running surface size
choose the treadmill running surface size is important and is directly related to your needs and the type of training you are looking for, the recommended running surfaces are different for cumshots e hiking, , since the running surface — in other words, the space you move around, will have a direct impact on the performance of the equipment and on your comfort and safety during training.
Check out the instructions for the two modalities:
Walking treadmills: the ideal running surface measurements recommended for treadmills specialized in hiking are 40cm wide by 120cm long.
Running treadmills: the ideal measures for treadmills de cumshots are 50cm wide by 140cm long.
These aspects are very important to ensure that you perform your workouts in a way comfortable e safe.

Starke T20 Electric Treadmill: example of an ideal model for hiking.
engine power
First, it is necessary to realize that there are two types of engines used em treadmills: AC motor and the direct current motor.
What are the main differences between the two engines?
The main differences are linked to the performance e usage goals of each equipment.
As electric treadmills equipped with alternating current (AC) motors are more powerful gifts e resistant, but also noisy, guarantee good results for those who want to run or use it more frequently.
The treadmills that have direct current (DC) motors are more silent e less powerful, recommended for a more basic use of the equipment, as is the case of walks at home.
In summary:
O AC motor (B.C) It is more suitable for equipment placed in gyms, where its use is very frequent and there are usually no intervals between one user and another, these engines also better withstand different types of weight on the canvas without impacting their performance.
O direct current (DC) motor is the best option for residential use of electric treadmills, because the use is not continuous and the motor is more silent, not bothering other members of the house or neighbors.
Regarding the minimum power indicated for engines of direct current:
For hiking: 2.5 HP for users of up to 80kg com common use.
For races: 4.0 HP (or more) to continuous use and more users heavy.
Starke T60 Electric Treadmill: Engine of 2.5 HPDC with structure for light walking and running
Treadmill damping
keep an eye on treadmill damping it is important not only for the moment of practice to be more comfortable, but also for reasons of your financial security – in the medium and long term.
Good damping helps protect your joints, especially those of the knees and spine, and prevents injuries by impact.
Most treadmills use elastomers, which are small pieces of rubber situated between the deck (the wooden platform on which the tarpaulin runs) - and the metallic structure of the treadmill.
Os elastomers can be more high or more low, and this directly interferes with impact absorption – taller ones absorb more impact; and the lowest less.
You can identify these parts and their sizes on the underside of the equipment.
In general, the treadmills used for domestic use, more geared towards hiking, have simpler damping, usually composed only of a few elastomers.
Already the treadmills more oriented to use continuous ou professional journey may have differentiated elastomers or more than one type of damping to offer more comfort e performance nose cumshots.
Starke GT3 Electric Racing Treadmill: Complex cushioning system with multi-layer elastomers. Ensures comfort and running performance
Personalization of workouts
When choosing the most suitable treadmill to your goals, in addition to observing the running surface size, engine power and the damping, it is also interesting to look at the features that each treadmill can offer you to improve your workouts and help you achieve your goals.
Slope
electric treadmills that have the possibility of inclination allow you to diversify your workouts.
There are two possibilities to choose from: equipment with electronic tilt ou mechanical tilt.
The best option is always equipment with electronic tilt, as it makes it possible to modify the levels while the treadmill is running, offering more dynamic training sessions without having to stop running. THE mechanical tilt it is more limited and impractical as it requires manual intervention between different race times.
Programs
have different possibilities of program on the treadmill is important to challenge yourself and vary your workouts, whether in running or walking sessions. Dynamic programs fight routine and can help keep you engaged in your workouts.
It is possible to buy equipment with automatic programs varied and yet customize them according to your needs to ensure an even better workout.
Metric tracking
Choose equipment that helps you monitor the main metrics of your training: time, speed, Calories e distance.
Furthermore, by choosing a device that is able to measure your heart beats, opts for a model that has hand grip, which is made up of small metal plates where you can place your hands during training; or alternatively, a model with the possibility of telemetry, where the measurement is made using transmission belts.
Conectividade
The most recent treadmill models have different possibilities of connectivity, either by Bluetooth WiFi, apps fitness or cable USB.
It's possible connect training to applications and smartphones, watch series, listen to songs e até surf the Internet.
With more and more possibilities for personalization, equipment makes training increasingly dynamic.
Practicality
When you choose one electric treadmill for your home, don't forget that you have to store it in a practical and safe place after training.
There are already equipment on the market with more compact and foldable structure, which makes it much easier when choosing a residential treadmill.
It is important to note that the most robust treadmills, suitable for races and more continuous use, do not bend completely, because their motor is larger and more complex..
In relation to equipment weight to ensure greater mobility when moving the treadmill inside the house, but also to ensure greater stability during training: good walking treadmills are at least 40kg; while treadmills must be a minimum of 90kg-100kg, ensuring the frame is sturdy enough to withstand running without moving, but without compromising your mobility at home.
Weight is important to ensure that the treadmill has the strength and sturdiness needed to withstand your training routine.
Do you have any doubts?
Get in touch with us via E-mail: hello@starketraining.store
Or leave your question in the comments!
You can also discover our 6 tips to take care of your treadmill at home.
---