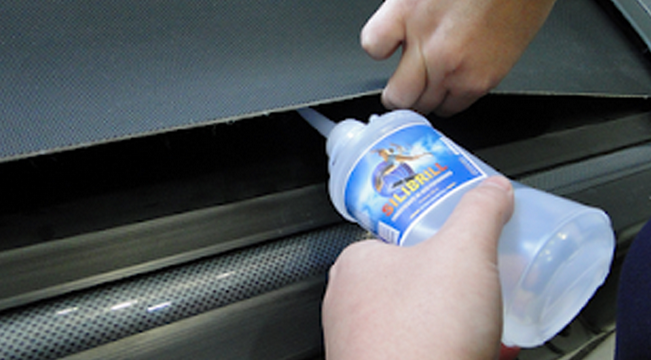 March 11, 2022
0 comments
when buying a electric treadmill It is important to pay attention to some basic precautions to ensure that the equipment has a good useful life and does not suffer from unnecessary wear and tear.

For treadmills, the lubrication é very important ensuring that they continue to work correctly and avoid inconvenience, for example, preventing the burning of important plates and even preventing it from crashing during your running or walking session.

And while it is important to have a specialized technical assistance, the treadmill can be lubricated at home with the appropriate equipment and frequency.
What to use to lubricate the treadmill?
Silicone suitable for treadmills. It can be spray or liquid.
Usually the equipment is delivered with a sample of the type of product indicated to facilitate the application by the user, but it is easy to find this type of silicone in stores of fitness equipment.
Step by step to lubricate an electric treadmill

Lubricating the treadmill is a simple task, but it requires periodicity and care on the part of the user.
It is important to read the instruction manual and understand the instructions for preventive maintenance of the equipment so as not to over-lubricate.
Find out in this article
6 practical steps to lubricate your treadmill
– In the following example, we used liquid lubricant:
Drill a small hole in the end of the lubrication tube;
Carefully lift the equipment tarpaulin;
Fits the nozzle of the silicone tube under the tarpaulin, in the walking area of ​​the treadmill;
Press the bottle and move it from one side to the other, tracing a line of approximately 30cm;
Repeat the procedure on the other side of the treadmill;
Turn on the equipment and let it run for 5 minutes at a speed of 4 km/h;
Turn off the equipment.
If you want to know more about the care of your treadmill and the guarantee of its useful life, click here and find out 6 tips to take care of your treadmill at home.


Do you have any doubts?
Get in touch with us via E-mail: hello@starketraining.store
Or leave your questions in the comments!
---