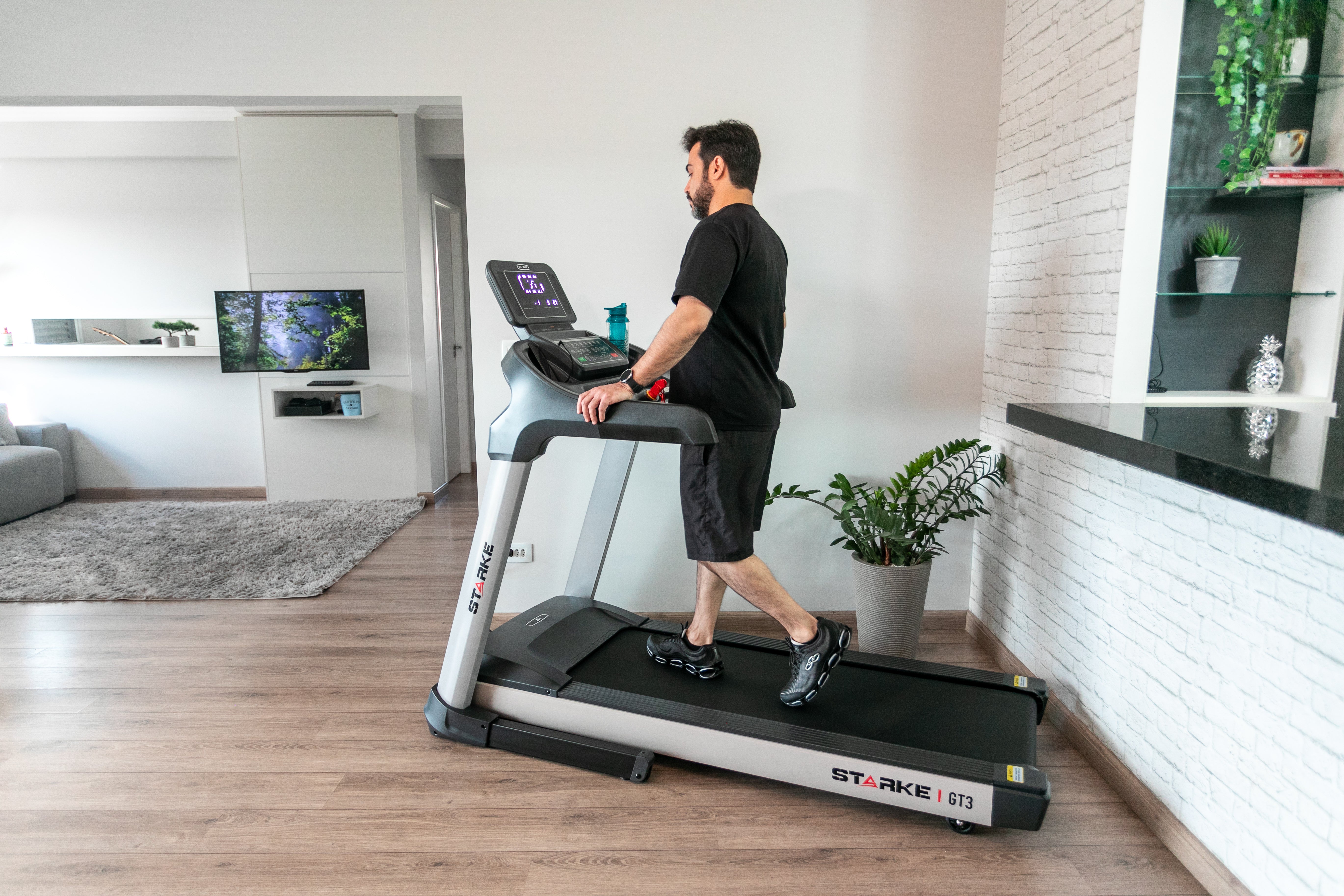 March 11, 2022
0 comments
Choose a good one electric treadmill to maintain the training routine at home is a challenge for those who do not know the technical specificities appropriate to the needs of each user.
While some people want correr, others just want to reach their number of daily steps without leaving home.
And for each of these goals there are electric treadmills indicated, according to a cost-benefit calculation.
In this post, we have gathered information about the 3 models of Starke treadmills available to equip your fitness space at home: the electric treadmill Starke T20 for hiking, the electric treadmill Starke T60 is recommended for both walking and light running and, electric treadmill Starke GT3 with incline, it represents the most complete solution for all types of running training.
Starke T20
With Bluetooth connection, intuitive panel and mobile phone support, it has a direct current motor with 2.5HP and goes up to 14km/h.
Indicated for hiking, a T20 is a comfortable, compact and foldable electric treadmill that offers all the practicality for those who want a functional equipment to train at home.
Starke T60
A T60 accumulators is a electric treadmill indicated for hiking e light runs.
with engine direct current de 2.5HP, it goes up to 16km/h and has an intuitive panel with Bluetooth connection, offering different possibilities for your workouts.
The T60 is suitable for those who want a more versatile and resistant equipment to train at home.
Starke GT3
A Starke GT3 is more complete and robusta and being ideal for those who like to keep training with a higher performance. The GT3 is ideal for training race.
With an intuitive dashboard that shows the most important metrics and Bluetooth connection compatible with fitness apps, , GT3 will not disappoint more experienced athletes.
Foldable and more robust than the other options, the GT3 is an excellent residential alternative for those who are used to treadmills and don't want to compromise on the quality and pace of the heaviest workouts at home.
How to choose the ideal option?
The choice of equipment will mainly depend on the objectives of each user.
That's why it's important to understand the differences between treadmills, their characteristics and indications for recommended use.
Find out here 5 tips for choosing the best electric treadmill for your home.
Do you have any doubts?
Get in touch with us via E-mail: hello@starketraining.store
Or leave your questions in the comments to the article!
---